LAKE KARIBA ~ SOUTH LUANGWA ~
LOWER ZAMBEZI ~ SHIWA NGANDU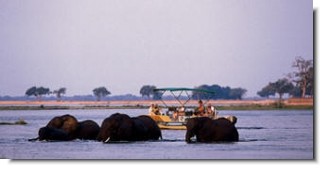 DAY 1
You are met on arrival in Lusaka and transferred to Lilayi lodge for one night accommodation on diner, bed and breakfast basis. Our representative will find time to meet you and go over your program and itinerary
DAY 2
Today after breakfast you will be transferred from Lusaka to Sinazongwe a 4 hours road transfer, on arrival at Sinazongwe you will be transferred to Chete Island by either speed boat or sail boat. Chete island safari lodge is situated on chete island part of a chain of islands on the Southern shores of Lake kariba, these islands have remained uninhabited by humans from the time Lake Kariba was created, this has made it ideal home to wildlife which includes elephants, Lions, leopards, crocodiles, hippos and a host of African antelopes not forgetting the birdlife.
DAY 3,4,5,6
Still at Chete Island with activities ranging from canoeing, birding, boating, sailing, wild walks or indeed game drives
DAY 7,8,9,10,11,12,13


Early morning breakfast followed by boat and road transfers to Lusaka to arrive in time for your afternoon flight to Mfuwe near the South Luangwa National Park for 6 nights at 2 of the finest lodges in the area or a combination of 1 fine lodge and a couple of nights in a bush camp
DAY 13
Fly back to Lusaka and connect to Lower Zambezi for one night stay at Gwabi Lodge
DAY 14,15,16
Launch the canoeing safari
DAY 17
Finish Canoeing at Stay at Mvuu Lodge or one of the other fine lodges in the Lower Zambezi area

DAY 18
Still at Mvuu Lodge or one of the other fine lodges in the area

DAY 19
Transfer back to Lusaka and continue up to Forest Inn for over night on diner, bed and breakfast basis only.

DAY 20
Continue with a stop over at Nkundalila falls and travel up to Shiwa Ngandu for 2 nights stay at Kapishya Hot Springs lodge on all inclusive basis

DAY 21
Still at Shiwa Ngandu with activities in the area

DAY 22


Travel back to Lusaka
Email us for Price or to make a Booking
ITINERARIES ON REQUEST
Many other itineraries can be organised at your own request and this can be altered to fit in with flights changes, or a specific need for any particular reason at the time of the time of booking.