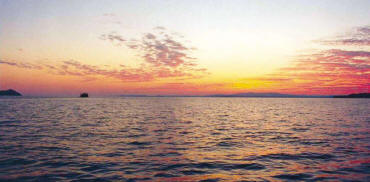 Nataizya Guesthouse
is truly your "home away from home" in Siavonga, .famous for all-year-round warm temperatures.

Only a two and a half hour drive from the capital city of Lusaka, Nataizya Guesthouse sits on the edge of the shores of Lake Kariba.

Stunning views of the lake and the distant Zimbabwe shoreline provide a picturesque backdrop for this secluded, private residence. It's quite simply the perfect place to de-stress far away from the hustle and bustle of city life.

You are assured of a warm and hospitable welcome from the staff who will pamper you, and give you their undivided attention.

The tasteful décor and furnishings lend a pleasant feel, reflecting a personal, intimate and individual touch. All of which goes to making you feel "at home" from the moment you arrive.

Each room is uniquely decorated and has en-suite bathroom facilities. Ideal for families wishing to get away from the "madding crowd" and re-bond for a short weekend break or longer holiday, corporate executives requiring a quiet, secluded venue for a top-management brainstorming session or simply anyone wishing to spoil themselves with hearty dose of peace and tranquillity for a few days
Nataizya Guesthouse operates on a self-catering basis. Guests are therefore required to bring their own food and drinks. This arrangement affords our guests great flexibility and choice over the type of food they eat, its preparation and the time when meals are taken. A cook is at hand to assist in the preparation and serving of meals, should this be required. Meals can be taken in the indoor dining room, or on the very spacious covered terrace. A fully equipped kitchen is available, in addition to a large outdoor braii and tandoori. oven.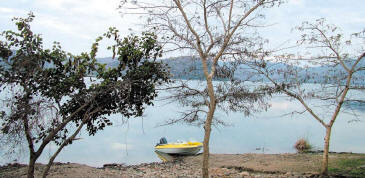 Guests not wishing to make use of the self-catering facilities have the option of taking their meals at the numerous local hotels. For guests wishing to enjoy some time on the lake, a speedboat and houseboat, with trained crew, are available for hire. Both are ideal for cruises to local sights such as the dam wall, Pimple Island, Banana Island and Sandy Beach. Fishing trips can also be arranged (please bring your own tackle).

Do make sure to plan your return journey to the guesthouse to coincide with the spectacular Siavonga sunset and immerse yourself in this unique and therapeutic experience whilst on the lake (don't forget the gin & tonic!)

Four self-contained and fully air-conditioned rooms can sleep up to eight guests (two persons per room). A very spacious verandah provides ample room for lounging around and relaxing, entertaining or even work! A swimming pool overlooking the lake provides for cooling dips in between other activities. The guesthouse has a sauna, jacuzzi, outdoor bar and outdoor braai available for use by guests.

The outdoor bar, conveniently located adjacent to the braai area, permits the wife to "supervise" the husband's cooking at close quarters, whilst enjoying her favourite wine! DSTV is available in the main sitting room.
Book with