Redcliff Zambezi Lodge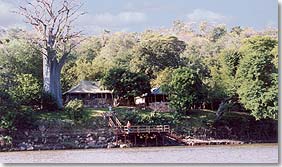 Environmental sensitivity, along with an appreciation for the privacy of our guests, were considered during the design of Redcliff Zambezi Lodge. The central entertainment area and lounge are therefore entirely separate from the tented chalets. Chalets are conveniently spaced under the large, shady riparian trees. The lodge property (about 100 ha) extends along 1.5 km river frontage.

Redcliff Zambezi Lodge can accommodate up to 16 guests. Four tent-roofed chalets (each with 2 beds) and two family chalets (each with 4 beds) are furnished with beautiful indigenous teak.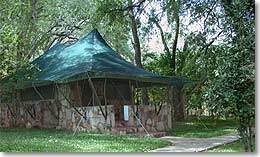 Guests can enjoy stunning views and abundant bird life of the Zambezi River from the privacy of their chalets.
The indigenous vegetation forms the 'garden' between chalets, with the huge trees providing a shady canopy. The camp is built safely above the high-flood level.
A swimming pool is part of the comfortable surroundings.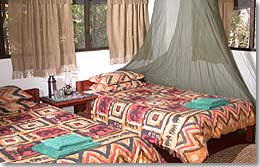 Chalets are spacious and airy, designed to combat the heat and humidity even during the hottest months. Each chalet has large, comfortable beds and mosquito nets and en suite facilities, including shower, toilet, hot and cold running water. Solar panels are used to charge 12 volt batteries for major lighting needs, while pathways and chalets are illuminated by paraffin lanterns, providing a soft and rustic atmosphere
The lodge is equipped with radio communications in the event of an emergency. Email communication, via radio link, is also available on request.
There is a central entertainment area with lounge, dining room, bar and a well-appointed veranda/deck that overlooks the river. This is the ideal spot to view the numerous hippo and crocodiles that frequent the Zambezi River in front of the lodge, and to listen to the sounds of the wild after sunset. Meals include breakfast, lunch and dinner, with the three-course main meal served in the evening. Meal times are flexible to suit guest requirements and activities.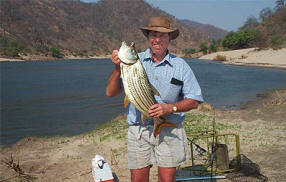 Book with